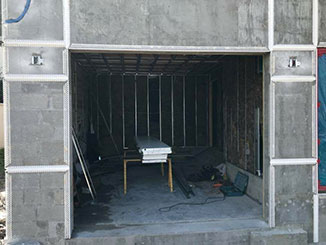 When things go wrong with your garage door, count on Garage Door Repair Gastonia to jump in and fix the issue promptly, reliably, and affordably. We specialize in repairs and replacements of broken springs, cables, rollers and anything in between. Also, we provide you with a wide range of quality replacement parts, including new doors, opener units, and matching panels. Here's an overview of our services.
Professional Opener Repair
Having troubles with your garage door opener? While it's important that your door looks great, it's even more important that it's fully functional. We employ a team of highly-skilled, experienced technicians who will go above and beyond to find what went wrong with your opener and resolve it in a single visit. From a burnt motherboard to transmission issues, we fix it all!
We Can Help With Broken Springs
All garage door systems rely on torsion or extension springs which counterbalance the door's weight and keep it 'afloat'. However, once one of the springs break, you are left with a door that's out of balance or won't open at all. It's very important you remember it can be dangerous to fiddle with the broken spring yourself and it's much wiser to hire one of our experts to replace the set of springs with new, high-grade products.
New Door Installations & Replacements
If it's your first time shopping for a new garage door, or it's been a while since you've done that, you'll be surprised with the scope of options available on today's market. There's something for everyone's fancy and we will work hard to deliver whatever you're looking from, from durable steel doors to carriage house styled ones. You can count on us to not only help you choose a high-grade model, but to install it flawlessly together with its corresponding parts.
Whatever service you might be needing, count on our professionals to handle the job competently, affordably, and quickly. Give us a call to chat about your issue.
A Few Informative Answers
Why is it my garage door opens a little then stops?
If your automatic garage door comes to a complete stop after rising only a short distance, the most likely explanation is that the opener's force and travel limits have slipped. If this is the case, the opener will have to be reset and calibrated for the weight and dimensions of your garage door again. This type of problem may also be the result of broken garage door springs. Either that or cable issues. Sometimes blocked tracks can be the cause. Some professional garage door troubleshooting ought to get your door working again in no time.
Why does the garage door close part way then opens again?
Partial closing before opening again is most often caused by misalignment or obstruction of the safety sensor pair. If so, a sensor cleaning and/or realignment session should get your garage door working again, or at most you might need replacement sensors. If not, it could be a more obscure control or opener malfunction. On rarer cases, this kind of problem is caused by an electrical issue with the garage door opener circuit board. On even rarer occasions it involves the drive system. Unless the cause is clear right away, it's best to let experts do some troubleshooting on your garage door.
We also offer:

Galvanized Torsion Spring Installation

Torsion & Extension Spring Adjustment

Automatic Door Opener Replacement

Commercial Garage Door Replacement