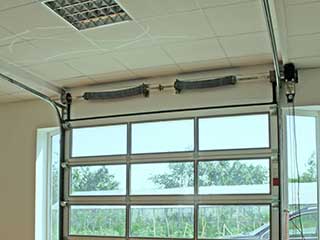 As one of the most important components of your garage door, your springs need to be properly taken care of! Discover how our experts can do so by looking below.
Professional Spring Replacement & Adjustment
Have you noticed your garage door having more difficulty than it used to when it comes to closing and opening in particular? Or, is it not moving at all? The likely culprit with these troubles is the springs. Your door is heavier than it looks, and it takes a lot of energy to pull it up. That's where the springs come in, as they do that heavy lifting. If one of them has broken, it's going to be far more difficult for it to go anywhere. That's where we come in! We've been providing excellent spring services for years and will be able to replace torsion or extension springs in no time for you. Adjustments can also be provided to get springs back into the proper place.
Don't Be Tempted To DIY
While taking care of small projects yourself can be fun and save some money, anything to do with your door's springs should absolutely only be handled by an expert. The springs are taut to create and store the energy needed to lift your door, and one false move could cause them to release that tension and hit you. Extension springs in particular run the risk of snapping and ricocheting which can cause a lot of damage and potential harm. Rather than set yourself up for potential disaster, just let our experts complete it in no time for you.
Swift & Reliable Work
We take pride in being able to provide our customers with service that's both fast and the best available, not just one or the other! That way you won't be stuck waiting for long, but can also rest easy knowing that our work will last you for years to come.
Don't Wait Any Longer
There's no reason to struggle with a garage door that isn't working correctly! Just contact Garage Door Repair Gastonia now.
Extra Information:
How do I know what size garage door spring I need?
The easiest way to know what size garage door spring you need is to measure 10 or 20 coils at the end of the spring. This should give you the thickness of the wire of the springs. Now measure the entire length of the spring. Once you know the thickness and length of your spring, you'll be able to determine which replacement is needed. However, this isn't something you want to get wrong, as thefriends and a couple of ladders or strong posts to hold up the door until you can get your car out. The leave it alone until the technician arrives. There are a lot of potential accidents waiting to happen when mishandling garage door systems, so you should leave the repairs to professionals whenever possible. wrong springs won't be able to properly handle the door's weight.
Can a garage door without springs still work?
You may be able to open your garage door manually without springs as it still has lift cable and, presumably, an opener. But it's not a good idea. In fact, it's a bad one. Your garage door is part of a system and any missing component can result in other door parts getting damaged as a result. The springs are in charge of bearing most of the load, so naturally, if they're not working, other parts will have to compensate. If you must use your garage door, do so with extreme caution and only to get your car out before arranging a repair service appointment as soon as possible.
Can you tell me how to open a garage door with a broken spring?
Quite simply, if your garage door has a broken spring, you should avoid trying to open it. The door is extremely heavy and can be dangerous. If a qualified technician can't come out fast enough and you need to get your car out, seek the help of
Count on us when it comes to:

Garage Door Weather Stripping

Opener Sensor Replacement

Bent Garage Door Track Repair

Broken Emergency Release